■ Brief History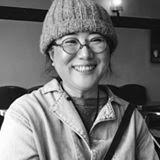 Saboco Ono
Born in Osaka, 1969; lives and works in Kobe.

I majored lithography at Kyoto Seika University. After receiving a BFA degree, I continued my studies as a research student for a year.
From 2002, I started creating my artwork while working as an art lecturer.
Around that time, I was travelling Asia following ethnic minorities.
I deeply found mysterious and magnetic synchronicity in a diversity of those minorities. 
After coming back from the trip, from 2007, I have been making aluminium artwork with my own techniques.

I understand my artwork has enshrined indigenous and universal strength in continuous patterns and imprints made by physical actions such as embossing on flexible material: thin metal layers of aluminium.

It is like a dialogue tracing back to the memory of aluminium which used to be buried and lain as a part of Mother Earth.
I continue to make my artwork daily, focusing on creating the one resonates profoundly within the body,mystic and fulfills with the cosmic float.
■ Solo Exhibitions
December 2019
September 2019
Aug.-Sep. 2019
June 2018
May 2017
November 2016
April 2016
April 2015
November 2014
April 2014
February 2014
April 2013
April 2012
August 2011
December 2010
September 2009
June 2009
Hikari sasu niwa
Prayer and altar
Prayer and altar
Prayer and altar
HIKARI NI SUMU Living in the Light
2room's
HIKARI WO TUNAGU Connecting the Light
image no baton The Baton of the Images
DIAESTA MIO GOSHIKIYAMA
HIKARU HOUSE The Shining House
HIKARI NI SUMU Living in the Light
HIKARU HOUSE The Shining House
HIKARI WO TATAKU Tapping the Light
HIKARI WO TATAKU Tapping the Lght
Shiawase Na Chikashitsu Happy Basement
Irotori Midori Picking the Colours
Mekuru Hekiga Flipping Wall Paint
Space31
Ronnie247 fine arts
Ronnie247 fine arts Recommend Wall
MU Higashi shinnsaibashi Gallery
KUNST ARZT
2kw Gallery
Street Gallery
2kw Gallery
TARUMI GOSHIKIYAMA
Street Gallery Michikusa
Gallery K
Atelier Ichigogoya
Gallery K
Street Gallery
Shinanobashi Gallery
Della Pache
Atelier 2001
Kobe
Tokyo
Tokyo
Osaka
Kyoto
Osaka
Kobe
Osaka
Kobe
Echizen
Tokyo
Kobe
Tokyo
Kobe
Osaka
Kobe
Kobe
■ Group Exhibitions
March 2020
November 2019
Mar.-Apr. 2019
September 2017
April 2016
October 2015
October 2015
September 2015
June 2015
October 2014
August 2014
January 2013
November 2012
September 2012
June 2011
August 2010
July 2010
February 2010
December 2008
November 2007
April 2007
August 2006
May 2006
April 2006
2002-2003
Route D'Argent Art Festival In Ikuno
Gakuenmae Art Festa
PRIZUM vol.10
In Tomonoura. ART
Finch Arts Art Fair
Kuroshio Art Festival
Mikage Club and Their Fellows
Paintings of The Three: Their Own Form
People, Human, One and Alone: The Group Show
Kuroshio Art Festival
Yamanobe Art Festival
Japan Collage 2013
HANAART More
Landscapes of India and Asia
International Impact Art Festival
Art in the Rice Paddies
10 Expressionists
thing matter time
The Exhibition of the Two
Book Indépendants
Tong Tong —Tong Tong Saboco at Tonka Books
Namaze Art Festival
Ground Power: Secret Factory: Room No. 5
Good Art
SOW Group Exhibition
Upper house of the temple
Niwa residence
contemporart Gallery ZONE
Tomonotsu museum
VOXXN CAFE
Former Nangoku Restaurant
HAKUTSURU Sake Brewery Museum
Space So
Gallery K
Nishinoomote Shopping Street
Yamato Shrine
Gallery K
Kikujutei, Kooriyama
Art Space Kaoru
Kyoto Municipal Museum of Art
E.P.A.S. IN FUKUI
Shinanobashi Gallery
Shinanobashi Gallery
Art Space Kaoru
Ashiya City Museum of Art and History
Tonka Books
Namaze Elementary School
Isogami Warehouse
Kyoto Municipal Museum of Art
Contemporary Art Centre
Hyogo p .Ikuno Town
Nara
Osaka
FukuyamaCity Hiroshima
Kyoto
Tanegashima
Osaka
Osaka
Tokyo
Tanegashima
Tenri
Tokyo
Nara
Kobe
Kyoto
Fukui
Osaka
Osaka
Kobe
Ashiya
Kobe
Takarazuka
Kobe
Kyoto
Osaka
■ Picture Book Exhibitions
October 2014
July 2014
The Hole: Picture Book Exhibition
The Hole: Picture Book Exhibition
Tonka Books
Nishinoomote Public Library

Kobe
Tanegashima
■ Commission Work
October 2017
November 2014
DIAESTA MIO TARUMI KAIGANN DORI
November 2014
TARUMI KAIGANDORI
Goshikiyama, Tarumi
Kobe
Kobe